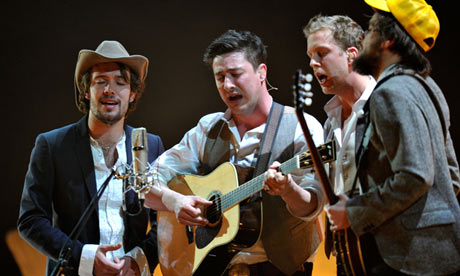 NOTES for TODAY (March 26, 2013):
Mumford and Sons announce itinerary for American tour, which includes June 13 stop in NOLA
Depeche Mode release their anticipatd new record 'Delta Moon'
MUSICAL BIRTHDAYS
Diana Ross (Supremes) 69
Steven Tyler (Aerosmith, American Idol) 65
MUSIC HISTORY – MARCH 26
1964..Barbra Streisand made her Broadway debut in Funny Girl.
1965…Bill Wyman of The Rolling Stones was knocked unconscious after 220 volts of electricity passed through his body while on stage in Denmark.
1966 …The Beatles posed with butchered dolls for the cover of their album Yesterday… and Today.
1969…John Lennon and Yoko Ono kicked off their Amsterdam Hilton "bed-in."
1970…Peter Yarrow of folk trio Peter, Paul and Mary was found guilty of "taking immoral liberties" with a 14-year-old girl and began a three month jail term.
1972…Mott the Hoople decided to break up, but changed their minds when David Bowie approached them with a song called "All the Young Dudes."
1975…The Who's Tommy film opened in London.
1977…Elvis Costello released his first single, 'Less Than Zero.', the anti-fascist song whose title would later inspre the title of Bret Easton Ellis' debut novel
1980…The Police played Bombay, India. It was the first Western rock concert in the Indian city in ten years.
1982..Toto released Toto IV
1986…Geffen signed a Los Angeles band by the name of Guns N Roses.
1995…N.W.A. rapper Eazy E died of AIDS complications.
1997 …Third Eye Blind released their debut album.
1998…Chuck Negron sued his former Three Dog Night bandmates, claiming they interfered with his career.
2004…Howie Day was arrested in Wisconsin after allegedly locking a woman in his tour bus bathroom after she refused his advances.
2004…Sammy Hagar announced on Howard Stern 's radio show that he was back with Van Halen and they would tour that summer.
2006…Nikki Sudden of 1970s indie pioneers Swell Maps died following a New York gig. He was 49.
KINDA SORTA HOLIDAYSÂ 
Today is Legal Assistants Day!
Today is National Make Up Your Own Holiday Day! (I'm thinking National Use Your Blinker Day!)
Today is National Nougat Day!
Today is National Spinach Day!
Today is Spinach Festival Day!
via checkiday.com
for the week:Â 
National Cleaning Week — always the fourth week in March. 87% of Woman's Day readers will do some sort of spring cleaning this year. When asked, "What's your most hated household chore?"
Idiot's Guide To Spring Cleaning
Do: When you dust, start at the top and work down.
Don't: Try to save time and money on feather dusters by hopping the neighbor's cat up on cat nip and using its tail.
Do: Wash the walls from the bottom up to avoid streaking.
Don't: Cut corners by filling up your super soaker with Windex.
Do: Wash the knickknacks instead of dusting.
Don't: Run the knickknacks in a load of laundry.
Do: Open a box of backing soda to absorb odors in your refrigerator.
Don't: Recklessly open gurgling Tupperware.